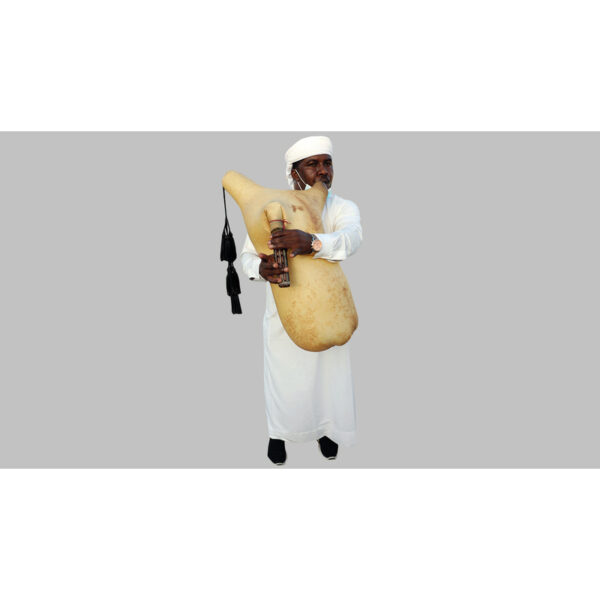 Roll over image to zoom in
Click to open expanded view
Professional Arabian Haban / Habbān Bagpipes (Only Skin)
This Arabian Haban instrument is made from goat skin and is of high quality, offering a unique and seamless musical experience. Handcrafted with precision, the goat skin adds an authentic allure to the instrument. Each piece showcases distinct patterns, emphasizing the meticulous craftsmanship that defines our Haban Bagpipes. Included is the essential bag for storing air, ensuring an uninterrupted and rich sound. It's important to note that we provide only the skin or air chamber of this instrument for sale, and for playing, it is essential to procure a separate Ney reed. This allows musicians the flexibility to personalize their playing experience. Immerse yourself in the musical heritage of the Arabian Culture with the Haban, where tradition converges with individual expression. Elevate your musical journey with this exceptional bagpipe, characterized by its distinct sound and superb craftsmanship.
Material: Natural Skin
Dasteh Included: No
Category: Bagpipes
Place of production: Bushehr

Arabian Haban Bagpipes
Introducing the Arabian Haban Bagpipe, a traditional instrument crafted with precision and adorned with cultural richness, originating from the coastal regions of the Persian Gulf, particularly Kuwait. Meticulously made with animal skin, the Haban belongs to the esteemed category of Bagpipes, akin to the Ney Anban found in the southern regions of Iran. What sets the Arabian Haban apart is its larger skin, nearly twice the size of the Ney Anban, and a distinct handle shape that adds to its unique character. The Arabian Haban Bagpipe resonates with a deep, bass-heavy sound, distinguishing itself from the Ney Anban. This instrument encapsulates the cultural fusion that defines the musical landscape of the Arabian Peninsula. Its larger size and unique design contribute to a rich and resonant musical experience, making it a standout choice for musicians and enthusiasts alike. Uncover the echoes of coastal melodies and the historical significance embedded in the Arabian Haban, as it beckons you to explore the captivating world of traditional Arabian music. As you delve into the enchanting world of the Arabian Haban Bagpipe, you'll discover not just an instrument but a piece of cultural heritage, echoing the cross-cultural influences that shape the musical tapestry of the Persian Gulf. Embrace the allure of the larger skin, the unique handle, and the bass-infused tones that define the Arabian Haban, a testament to the enduring legacy of traditional music in the heart of the Middle East.
General Information
| | |
| --- | --- |
| Country of origin | Iran |
| Handling time | 20 Days |
| Weight | 500 Gram |
| Style | Traditional |
| Product Type | Haban Bagpipe |
| Construction | Handmade |
| Condition | New |
Questions and answers of the customers
There are no questions yet. Be the first to ask a question about this product.