Set of Bustan & Gulistan Saadi, Rubaiyat of Khayyam & Divan of Hafez Farsi Books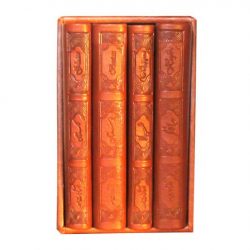 Set of Bustan & Gulistan Saadi, Rubaiyat of Khayyam & Divan of Hafez Farsi Books
Description
The Bustan of Saadi Book by Saadi Shirazi
The Bustan is a book of poetry by the Persian poet Saadi, completed in 1257 CE and dedicated to the Salghurid Atabeg Sa'd I or Sa'd II. Bustan is considered one of two major works of Saadi. It was Saadi's first work, and its title means "the orchard".
Gulistan Book by Saadi Shirazi
The Golestan is a landmark of Persian literature, perhaps its single most influential work of prose. Written in 1258 CE, it is one of two major works of the Persian poet Sa'di, considered one of the greatest medieval Persian poets.
The Rubaiyat Book by Omar Khayyam
Rubáiyát of Omar Khayyám is the title that Edward FitzGerald gave to his 1859 translation from Persian to English of a selection of quatrains attributed to Omar Khayyam, dubbed "the Astronomer-Poet of Persia".
The Divan of Hafez Book by Hafez
Poetry. Sufism. Middle Eastern Literature. Arab American Studies. Translated from the Persian by Reza Ordoubadian. Shamsed-din Hafez was born some six hundred years ago in southern Iran, but his poems have universal and contemporary appeal. Wherever Persian is known, he is easily recited by both king and common man. Those uncertain about matters of love, fortune, or any other situation open a page of his collection of poems at random and in it see their dilemmas untangled. His turns of phrase have enriched the Persian lexicon and entered everyday language; this has made him Persian culture's most read, quoted, and revered figure. Reza Ordoubadian's translations make the poems of Hafez accessible to the English language reader, while remaining faithful to the nuances of Hafez's language and thought in the original Persian.
Information
| | |
| --- | --- |
| Approximate weight | 1208 |
| Handling time | 7 Days |
| Book Cover Type | Artificial leather |
| ISBN | 978964729107 |
| Suitable for | Adults |
| Language(s) | Persian (Farsi) |
| Number of pages | 1208 |