PERSIAN OR IRANIAN TERMEH TABLECLOTH
Termeh is a type of Persian handwoven cloth, produced primarily in the Isfahan province. Now the Yazd Termeh is the most beautiful and famous in the world. Yazd is the center of the design, producing and marketing of Termeh.Weaving termeh requires a good wool with long fibers.
What is Termeh ?
Termeh is a nice cloth which is woven since Safavi era in Iran.There is an argument between researchers about its origin. Some of them believe that termeh has been made in Kashmir and then brought to Iran.Others say that Iranian have been the innovators of weaving termeh and this material has been taken into concentration like other handicrafts in other parts of the world (Kasmir: Historical region divided between India and Pakistan). But it is a real fact that Iranian termeh in comparison with what ever produced in Kashmir is much better and it has different colours and designs. The only reason that made the Kashmir famous is using a kind of string which is produced by wild goat's wool. Besides the main place where it lives is Himalaya mountain range located north of India. So Kashmiri termeh weaves have had more availability to it while Iranian had to use fleece.
Weaving
In the past, the first step in termeh weaving was preparing its raw materials. So it was very important to be careful while preparing wool, washing and drying it. Weaving termeh needs a good wool which has tall fibres. Usually, the designs of Iranian termeh were the result of the cooperation between two main persons- an expert and a worker. Weaving Termeh was a very careful, sensitive and time-consuming work that a good weaver could produce only 25 to 30 centimetres (1 feet) in a day. The background colours which are used in termeh are mostly jujube red, light red, green, orange and black.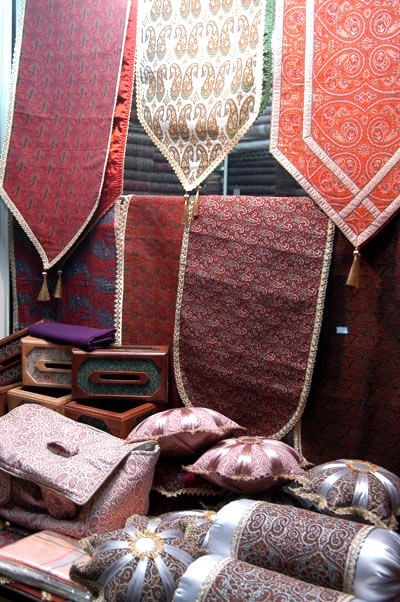 Maintenance and Washing
Termeh is woven with various designs in different parts of Iran; one of the best samples of it belongs to Yazd. Due to its high density in warp and weft, this kind of textile has good hardness. You need to protect it from sunlight, humidity, and webbing clothes mot. Naphthalene is the best organic compound to protect it cloths against webbing clothes mot. Remember, to washing Termeh take it to the dry cleaning.
What is Sermeh Doozi?
Sermeh doozy is a prominent needlework used in ancient Persia. It is an embossed technique used on expensive pieces of fabric and clothing ever since. The artist uses a threaded needle and passes it through small delicate pieces of gold embroidery tube (Sermeh) and sews and secures it to the fabric.The designer usually uses pearls and beads too to make the design more glamorous and also outstanding. This sort of embossed work is truly outstanding and one of a kind.
You may also like to buy these handicrafts .…