Masnavi – The Poetry of Rumi Farsi Book
Product by:

Out of stock
Get an alert when the product is in stock:
Out Stock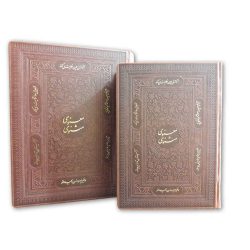 Masnavi – The Poetry of Rumi Farsi Book
Description
Masnavi
The Masnavi, or Masnavi-ye-Ma'navi, also written Mathnawi, or Mathnavi, is an extensive poem written in Persian by Jalal al-Din Muhammad Balkhi, also known as Rumi. The Masnavi is one of the most influential works of Sufism, commonly called "the Quran in Persian".
Rumi
Jalāl ad-Dīn Muhammad Rūmī, also known as Jalāl ad-Dīn Muhammad Balkhī, Mevlânâ/Mawlānā, Mevlevî/Mawlawī, and more popularly simply as Rumi, was a 13th-century Persian poet, faqih, Islamic scholar, theologian, and Sufi mystic originally from Greater Khorasan in Greater Iran.
Information
| | |
| --- | --- |
| Dimensions | 28×21 cm |
| Handling time | 7 Days |
| Book Cover Type | leather with frame |
| Suitable for | Adults |
| Language(s) | Persian (Farsi) |
| Number of pages | 1088 |
Tags: books of maulana rumi, Buy Masnavi, Buy Masnavi Book, Buy Masnavi Maulana Jalaluddin Rumi, Buy Persian (Farsi) Books, Buy Persian books, Buy Rumi book, Buy The Essential Rumi Book, Farsi Book for Sale, Farsi Book Shop, Farsi Books, Farsi Books Online, Farsi Bookstore, Farsi Bookstore Los Angeles, Farsi Poetry Books, Iranian Bookstore, Iranian Bookstore Online, Masnavi, Masnavi Maulana, Masnavi Maulana Jalaluddin Rumi Book, Online Farsi Bookstore, Persian Book, Persian Book Shops in London, Persian Books, Persian Bookstore, Persian Bookstore in Canada, Persian Bookstore in Los Angeles, Persian Bookstore Online, Persian Bookstores in Los Angeles, Persian Bookstores in Westwood, Persian Farsi Books, Persian Poetry Books, Popular Rumi Books, RUMI A NEW TRANSLATION, Rumi Books, Rumi books and biography, Sale Persian Books, The Essential Rumi by Rumi, The Masnavi I Ma'navi of Rumi, Which is the best book by Rumi?