Set of Divan Hafez, Ghazaliyat Saadi, Rubaiyat of Omar Khayyam & Layla and Majnun
Divan Hafez: Persian with English translation
Rubáiyát of Omar Khayyám: Persian with English & France translation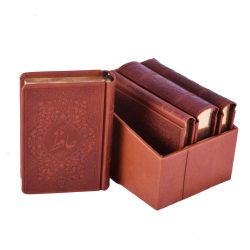 Set of Divan Hafez, Ghazaliyat Saadi, Rubaiyat of Omar Khayyam & Layla and Majnun
Description
Layla and Majnun
Poem by Nizami Ganjavi
Majnun Layla (Arabic: مجنون ليلى‎ Majnūn Laylā, 'Layla's Mad Lover'; Persian: لیلی و مجنون‎ Leyli o Majnun) is an old story of Arabic origin, about the 7th-century Najdi Bedouin poet Qays ibn al-Mullawah and his ladylove Layla bint Mahdi (or Layla al-Aamiriya). "The Layla-Majnun theme passed from Arabic to Persian, Turkish, and Indian languages", most famously through the narrative poem composed in 584/1188 by the Persian poet Nizami Ganjavi, as the third part of his Khamsa. It is a popular poem praising their love story. Lord Byron called it "the Romeo and Juliet of the East."
Qays and Layla fall in love with each other when they are young, but when they grow up Layla's father doesn't allow them to be together. Qays becomes obsessed with her, and his tribe Banu 'Amir and the community gives him the epithet of Majnūn (مجنون "crazy", lit. "possessed by Jinn"). Long before Nizami, the legend circulated in anecdotal forms in Iranian akhbar. The early anecdotes and oral reports about Majnun are documented in Kitab al-Aghani and Ibn Qutaybah's Al-Shi'r wa-l-Shu'ara'. The anecdotes are mostly very short, only loosely connected, and show little or no plot development. Nizami collected both secular and mystical sources about Majnun and portrayed a vivid picture of the famous lovers. Subsequently, many other Persian poets imitated him and wrote their own versions of the romance. Nizami drew influence from Udhrite love poetry, which is characterized by erotic abandon and attraction to the beloved, often by means of an unfulfillable longing.
Rubaiyat of Omar Khayyam
Rubáiyát of Omar Khayyám is the title that Edward FitzGerald gave to his 1859 translation from Persian to English of a selection of quatrains (rubāʿiyāt) attributed to Omar Khayyam (1048–1131), dubbed "the Astronomer-Poet of Persia".
Although commercially unsuccessful at first, FitzGerald's work was popularised from 1861 onward by Whitley Stokes, and the work came to be greatly admired by the Pre-Raphaelites in England. FitzGerald had a third edition printed in 1872, which increased interest in the work in the United States. By the 1880s, the book was extremely popular throughout the English-speaking world, to the extent that numerous "Omar Khayyam clubs" were formed and there was a "fin de siècle cult of the Rubaiyat".
FitzGerald's work has been published in several hundred editions, and has inspired similar translation efforts in English and in many other languages.
پکیج چهار عددی کتاب اشعار دیوان حافظ – غزلیات سعدی – رباعیات خیام و لیلی و مجنون هدیه ای ارزشمند برای اهدا کردن
کتاب لیلی و مجنون اثر نظامی گنجوی به خط حسن ملایی تهرانی شامل 272 صفحه مصور رنگی در سایز 12 ×8.5 سانتی
دیوان حافظ با دو بان انگلیسی و فارسی دارای 512 صفحه مصور رنگی در سایز 12 ×8.5 سانتی
کتاب رباعیات خیام به زبان های فارسی انگلیسی فرانسوی دارای 160 صفحه مصور رنگی در سایز 12 ×8.5 سانتی به خط ابراهیم سلیمانی
غزلیات سعدی دارای 560 صفحه صفحه مصور رنگی ، دیباچه محمد علی فروغی به خط محمد مهدی منصوری در سایز 12 ×8.5 سانتی
Information
| | |
| --- | --- |
| Handling time | 7 Days |
| Book Cover Type | Hardcover with Frame |
| Suitable for | Adults |
| Language(s) | Persian (Farsi) |