Iran has 5000 years civilization and has a rich tradition and culture, hence we can see in Iran a variety of arts and crafts. very city in Iran has its own handicrafts, so you can see handicrafts among the special souvenirs of each city. Iranian handicrafts are among the most important export goods of Iran. Among the popular Iranian handicrafts, we can mention traditional jewelry, glass, pottery, ceramics, handmade Carpets and Kilims, Zillow, Wood, Copper and their derivatives.
Iran is known as the most important exporter of handmade carpets and these handicrafts are one of the most important crafts works in Iran that has a global reputation. Carpet experts around the world say that Iranian handmade carpets are the best and most beautiful type of carpets in the world.
Iranian carpets, which have generally been the manifestation of Ferdows Brin or the gardens of the Iranian paradise, have brought with them the atmosphere and tranquility of the architecture of the Iranian gardens. The use of colors such as turquoise, azure, amber and Iranian red and hundreds of other unique colors that originate from Iranian tiling and the variety of soil colors in this country, with the softness of nomadic silk and wool, deeply connected with the culture of this country.
All Iranian handmade carpets have their own destiny and story, and love and originality can be found in their story.
Copper is found in pure form in nature. Using it does not require difficult extraction steps. For this reason, due to the ancient antiquity of copper vessels and tools discovered, many archaeologists believe that copper was the first metal to be discovered and used by humans. For this reason, the use of this metal is known to be 10,000 years ago. The oldest known specimen of this metal has been found in Iraq. Copper pendant that belongs to more than 8,000 years ago. Of course, it took centuries for this metal to be used artistically and as a handicraft.
Copper handicrafts are produced in different cities of Iran. One of these cities is Isfahan, whose artists apply original Iranian art on copper metal. Copper utensils are currently made using hot rolled copper sheet and hammering
The word "Moaragh" actually means something tidy, the art of making art is the laying of colorful and valuable wood, such as ivory, oysters, and metal, to achieve the desired design. Wood art mosaic can be one of the most beautiful and finest wood arts and crafts in Iran. The Isfahan art scene in Iran has a special place, the best and most diverse works of the world about this art to the Iranians. In fact, this art is really about making different kinds of different types of different colors and patterns.
Moaragh Kari In Iran in the 6th century AH, during the Seljuk period, it went to perfection and became very common It was at its peak until the Safavid period and the main cities of Moaragh Kari in these periods were Isfahan, Yazd, Kashan, Herat, Samarkand and Aran and Bidgol.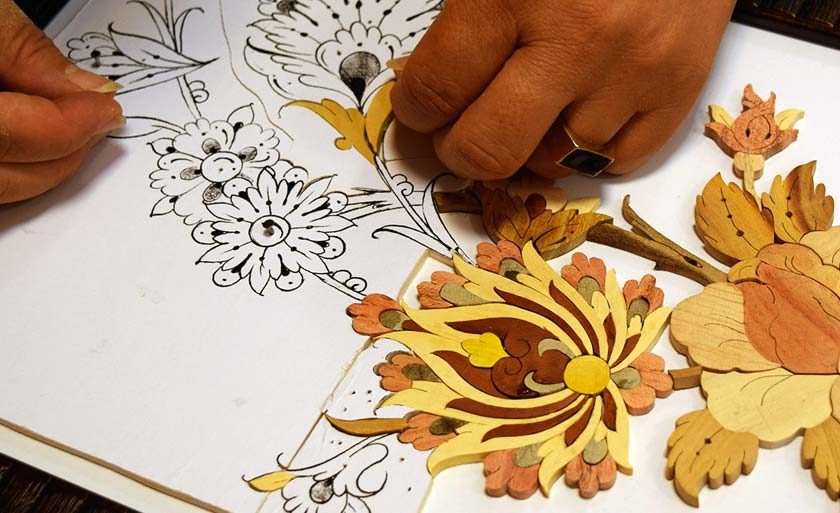 Khatamkari is one of the ancient Persian Art. Khatam-kari  is a version of marquetry and decorating the surface of wooden articles with delicate pieces of metal, wood, bone. Khatam-kari or khatam-bandi refers to the art of crafting a khatam. Khatamkari is a combination of regular polygons with a different number of sides that are formed using different raw materials in different colors. They are five, six, seven, octagonal or ten-sided.
Minakari or Enameling is one of the most glorious Iranian handicrafts. It is the art of painting and designing the surface of metals such as gold, silver, and copper by glazing colors and fire in the furnace (Sometimes, it is done upon the glass or ceramics too.) According to the orientalist scholar Arthur Pope, Minakari dates back to 1500 B.C. Its practice on metal appeared during 600-400 B.C.
Minakari is usually done on different utensils, such as vases and plates, picture frames, the doors and windows in holy shrines, jewelries, small decorative objects, and combined with Khatamkari, Miniature, Jewelry making and other kinds of art. Different kinds of paints used in Minakari were taken from plants, minerals, and iron ore. Nowadays, chemical paints are often used. The craftsmen use gold, copper, and tin in combination with different chemical materials to make red, green, and yellow colors respectively. Mina, meaning heaven in Persian, is a glasslike coating that can be fixed on different kinds of metals by heat. It is available in different colors, such as azure blue, reddish purple, green, yellow, cyan, yellow, gold, and black. But Isfahan Minakari is usually known by the colors of azure blue and turquoise or cyan.
Isfahan's Minakari has been produced in various enamel workshops for a long time and old Minakari dishes are proof of this claim. Not only those interested in Iranian handicrafts, but also art lovers abroad enjoy Isfahan Minakari and use it as an Iranian souvenir.
Minakari on Pottery is one of the most important handicraft products in Lalejin, Hamedan, which of course is produced all over the country today. Minakari on Pottery is a manifestation of handicrafts in Iran that has many fans. The color of Minakari on pottery is different from the color of Minakari on copper, but in both models, light colors are used.
Wood carving or in Persian "Monabat Kari" is a branch of wood industry that is considered an artistic technique. In Iran, woodcarving has several thousand years old and done is different cities but is one of the famous handicrafts of Malayer which elected as woodcarving capital of Iran at 2012. Woodcarving in the past done on the swords, spears and wooden shields of the Medes and Achaemenids armies.
Kalamkari originated from Iran and Kalamkari originates from Persian words qalam (pen) and kari (craftmanship). The Kalamkari is a type of hand painting or block painting cotton textile and only natural dyes used in Kalamkari. In Iran Kalamkari textile normally use as tablecloth or table runner. Ghalamkari In Iran mostly produced in Isfahan province and only natural dyes used in Ghalamkari which involves twenty-three steps.
Turquoise Inlaid is one of the most beautiful and popular Iranian handicrafts. Artists and craftsmen use turquoise pieces to produce decorative objects, ornaments and beautiful utensils. In these eye-catching handicrafts, turquoise stones in very small sizes are placed together regularly and at short distances. The small pieces of turquoise are carefully and delicately placed on a dish or objects made of copper, silver, brass, and so on.
The origin of this art is Khorasan province because the best and most desirable turquoise of Iran is obtained in Neishabour. This 80-year-old art was created by Khorasani craftsmen and artists and gradually spread to other cities.